Bonner and Associates

John Davies

Burson-Marsteller
Jack Bonner of Bonner & Associates, is one of the leading specialists providing grassroots support for his clients who include:
the Association of International Auto Manufacturers,
Chrysler,
Dow Chemical,
Edison Electric Inst,
Ford,
General Motors,
Exxon,
McDonnell Douglas,
Monsanto,
Pharmaceutical Manufacturers Assn,
Philip Morris,
US Tobacco Co. and
Westinghouse.
When the amendments to the Clean Air Act were being debated in 1990, Bonner managed to get some large citizen's groups, who had no financial interest in the matter, to lobby against amendments which would have required car manufacturers to make their cars more fuel efficient.
Bonner's firm, working on behalf of the automobile industry, persuaded these citizen groups that the legislation would have meant that large vehicles would not be manufactured. "Bonner's fee, which he coyly described as somewhere between $500,000 and $1 million, was for scouring six states for potential grassroots voices, coaching them on the 'facts' of the issue, paying for the phone calls and plane fares to Washington and hiring the hall for a joint press conference." (Greider 1992, p. 37)
The Society for the Plastics Industry hired Bonner after a law was passed in Suffolk County, New York in 1987 to ban some plastic products which were filling up landfills. The law was expected to be the first of many such laws in other parts of the US. The Society also challenged the law in the courts. Subsequently the law which had been approved with a 12 to 6 vote was suspended with a 12 to 6 vote by the same body.(Grefe and Linsky 1995, pp. 214-5)
Bonner's Washington DC office has 300 phone lines and a sophisticated computer system. His staff phone people all over the country looking for citizens who will support corporate agendas. He targets members of Congress who are unsure of how to vote or who need a justification for voting with the automobile industry against measures that will clean up the air.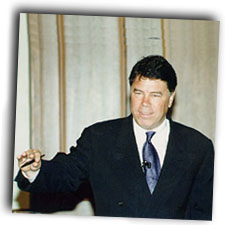 Davies Communications
Another expert in creating grassroots support for corporations is John Davies who features a picture of an old lady carrying a sign "Not in my backyard" in his advertisements. The picture is captioned
Don't leave your future in her hands.

Traditional lobbying is no longer enough. Today numbers count. To win in the hearing room, you must reach out to create grassroots support. To outnumber your opponents, call the leading grassroots public affairs communications specialists.(Stauber and Rampton 199, p. 18)
In his promotion, Davies explains that he will use mailing lists and computer databases to identify potential supporters and telemarketers to persuade them to agree to have letters written on their behalf. In this way he is able to create the impression of a "spontaneous explosion of community support for needy corporations." (Stauber and Rampton 199, pp. 23-4)
The practical objective of letter-writing campaigns is not actually to get a majority of the people behind a position and to express themselves on it—for it would be virtually impossible to whip up that much enthusiasm—but to get such a heavy, sudden outpouring of sentiment that lawmakers feel they are being besieged by a majority. The true situation may be quite the contrary.(Sherrill 1990, p. 376)
Burson-Marsteller, one of the world's largest public relations firms, also organises grass roots coalitions and corporate front groups for many of its clients. Since at least 1985 it has had a team of people in its Washington, DC office specialising in designing coalitions to build allies and neutralise opponents. In 1992 Burson-Marsteller created an independent grassroots lobbying unit, Advocacy Communications Team, to counter activists that threaten corporations by organising "rallies, boycotts and demonstrations outside your plant."
Burson-Marsteller used their grassroots lobbying unit to create the National Smokers Alliance in 1993 on behalf of Philip Morris. The millions supplied by Philip Morris and the advice supplied by Burson-Marsteller's Advocacy Communications Team, allowed this 'grassroots' alliance to use full-paper advertisements, direct telemarketing and other high-tech campaign techniques to build its membership to a claimed 3 million by 1995 and to disseminate its pro-smoking message. The Alliance's president is the Vice-President of Burson-Marsteller and other Burson-Marsteller executives are actively involved in the Alliance. (Stauber & Rampton 1995; Stone 1996)
Burson-Marsteller is heavily involved in similar activities on behalf of client's who have been threatened by the rise of environmentalism. It helped create the Coalition for Clean and Renewable Energy organised to support client, Hydro Quebec, which was embroiled in controversy with environmentalists over its dams, existing and proposed.
The masquerade is part of the game. B-M and companies like it, have become masters of manipulation. If a pro-utility group calls itself by a nice, green-sounding name; if speakers at public forums are not identified as being on the Hydro Quebec payroll; if supposed activists are really moles for the opposition, image triumphs and truth becomes a casualty.(Dillon 1993, p. 38)
A new coalition The Foundation for Clean Air Progress is currently operating out of Burson-Marsteller's offices. According to CLEAR an organisation, which monitors anti-environmental activities in the US, the Foundation is "in reality a front for transportation, energy, manufacturing and agricultural groups." It is attempting to influence the reauthorization of the Clean Air Act due in 1997 by setting up chapters in various cities and 'educating' the public about the progress made in air quality over the past 25 years. Its focus is on individual responsibility for pollution and personal voluntary actions instead of regulation of industry to achieve further improvements.(CLEAR 1996)
---
Additional Material
Anon. 1996, Hiding Behind Front, Philip Morris Plays into Opponents' Hands, Inside PR 14 October.
Anon. 1997, How to Win Friends and Influence People, Reputation Management, July/August.
Americans for Nonsmokers Rights, 1998, Philip Morris Documents: Astroturf Gold, 17 July.
Case Studies of Grassroots Campaigns, PR Central.
CLEAR, 1996, 'Clearing the Air with Burson-Marsteller', Earth First! (August/September), p. 18.
Dillon, John, 1993, 'PR giant Burson-Marsteller thinks global, acts local: Poisoning the Grassroots', CovertAction, No. 44, pp. 34-8.
Faucheux, Ron, 1995, 'The Grassroots Explosion', Campaigns & Elections, Vol. 16, No. 1, pp. 20-30, 53-8.
Greider, William, 1993, 'Grassroots organizing, PR-style: Democracy for Hire', PR Watch, Vol. 1, No. 1, pp. 8-9.
Greider, William, 1992, Who Will Tell the People: The Betrayal of American Democracy (New York: Simon & Schuster).
Grefe, Edward A. and Marty Linsky, 1995, The New Corporate Activism: Harnessing the Power of Grassroots Tactics for Your Organization (New York: McGraw-Hill).
INFACT's Corporate Hall of Shame
Maclachlan, Malcolm, 1998, 'Microsoft Not Alone in Planting Grassroots', TechWeb 21 April.(Quotes Davies)
Nelson, Joyce, 1993, 'Burson-Marsteller, Pax Trilateral, and the Brundtland Gang vs. the Environment', The New Catalyst, No. 26, pp. 1-3, 8-9.
Nixon, Ron, 1997, Coalition backing power line funded by AEP, Roanoke Times, December 7.
Sherrill, Robert, 1990, Why They Call it Politics: A Guide to America's Government, 5th edn (San Diego: Harcourt Brace Jovanovich).
Silverstein, Ken, 'Hello, I'm calling to mislead you', Mother Jones, Nov/Dec, 1997. (Article on Boner & Associates' activities).
Silverstein, Ken, 1996, APCO: Astroturf Makers, Multinational Monitor, 17(3), March.
Stauber, John and Sheldon Rampton, 1996, 'The public relations industry's secret war on activists', CovertAction Quarterly, No. 55, pp. 18-25, 57.
Stauber, John and Sheldon Rampton, undated, 'Deforming Consent: The public relations industry's secret war on activists', Environment Voters
Stauber, John and Sheldon Rampton, 1995, 'How the American Tobacco Industry Employs PR scum to continue its murderous assault on human lives', Tuscon Weekly, No. Nov 22-Nov 29.
Stone, Peter H., 1996, 'Fortress Tobacco Strengthens its Walls', National Journal (April 20).